The 2016 Kia Sedona is ideal to take you on the ultimate road trip. Whether you're taking the whole family on a trip to see relatives or your buddies to a weekend getaway, there's space and features that put other minivans to shame.

Plus, the Sedona just looks better than other minivans, with a sleek, low-to-the-ground exterior design that helped it win J.D. Power's APEAL (Automotive Performance, Execution and Layout) award in 2015. But if you're still on the fence about the 2016 Kia Sedona, what you may not know is it has lounge seating and Slide-N-Stow seats that can transform this minivan into a party bus.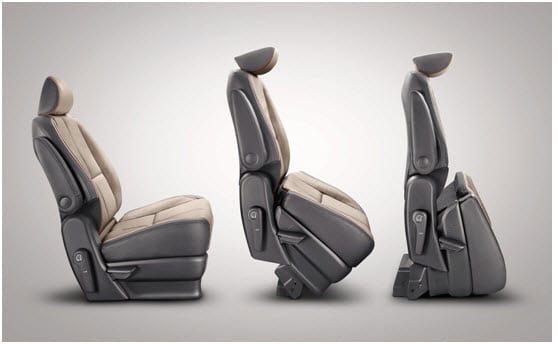 The 2016 Sedona's lounge seating makes it easier for your passengers to move around a bit and engage other passengers in conversation, or just to make additional space so they can take a nap in the leather-covered (or Tricot fabric, depending on the model option) reclining chairs. Other seating and cargo options for the 2016 Sedona to make the drive smooth and comfortable:
Up to 142 cubic feet of cargo room for all your shopping bags, luggage, equipment, etc.
First-class lounge seating in SXL models:
Recliner seats with 11 inches of movement.
Plus 3.3 inches of lateral travel movement for extra space between you and the second row and easier access to the third row.
Slide-N-Stow second-row seats: Standard for all models, except for SXL where they are optional. Seats fold up and slide forward to make additional room on the inside if needed.
Heated front seats: Optional for LX, standard for EX, SX and SXL.
Ventilated front seats: Standard for SX and SXL.
Heated second-row seats: Optional for EX and SXL, standard for SX trims.