2021 Kia K5 FAQs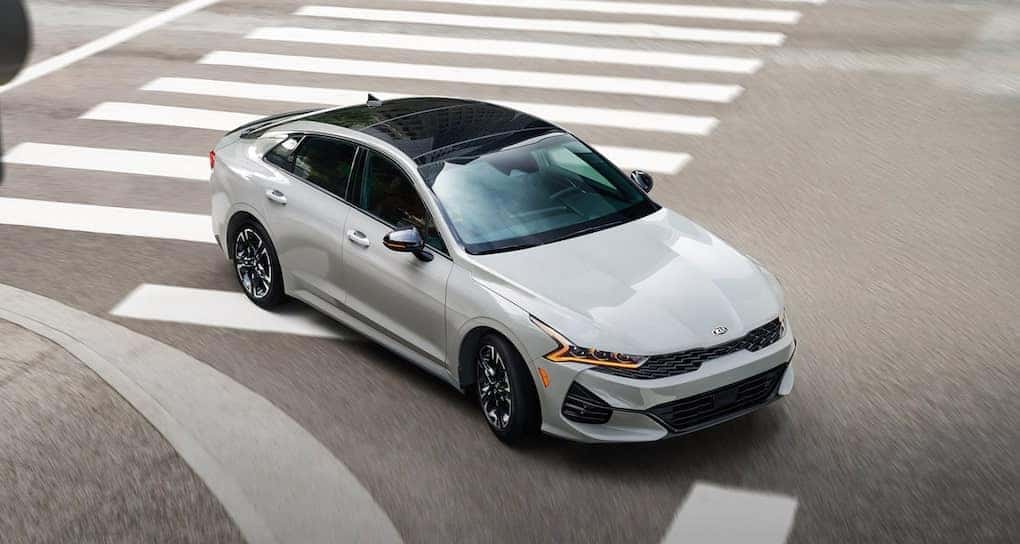 Interested in the all-new 2021 Kia K5 sedan? You're not alone.
Our in-house experts put together a list of their answers to some of the most common questions about the Kia K5 we hear at our Kia dealership in Beaverton to give you the full scope of this revolutionary sedan.
What Is A Kia K5?
Set to replace the Kia Optima, the aggressively styled 2021 Kia K5 represents an entirely revised take on the quintessential mid-size sedan.
Without delving into as much detail as our First Look at the Kia K5, the first thing to know is that it is Kia's most powerful mid-size sedan ever with up to 290 horsepower and best-in-class available torque in its all turbocharged powertrain lineup.
True to Kia character, the K5 will come standard with a suite of safety features, namely Forward Collision Warning and Forward Collision-Avoidance Assist Pedestrian.
How Much Will The Kia K5 Cost?
The 2021 Kia K5 will start at $23,490. For reference, the outgoing 2020 Kia Optima starts at $23,390.
When Is Kia K5 Coming Out?
The 2021 Kia K5 will arrive at dealerships in summer 2020.
Where To Buy A Kia K5?
Beaverton, Portland, and Hillsboro area drivers can hit the streets in the exciting new 2021 Kia K5 at Beaverton Kia – West Portland's sole Kia dealership.
What's The Difference Between The Kia K5 And The Kia Optima?
In terms of dimensions, the 2021 Kia K5 is 2.0 inches longer, 1.0 inch wider, and 0.8 inches shorter than the 2020 Kia Optima. The wheelbase of the Kia K5 is 1.8 inches longer than the Optima.
In terms of peak performance, the Kia K5 possesses far greater potential than the Kia Optima. The Kia Optima, however, is certainly no slouch. For instance, the 2.0L Turbo 4-cylinder on the range-topping SX trim cranks out 245 horsepower and 260 lb-ft of torque.
The Kia K5 GT, equipped with a 2.5L Turbo 4-cylinder engine, substantially elevates the get-up-and-go factor with 290 horsepower segment-leading 311 lb-ft of torque. The K5 will also offer traction-enhancing AWD and a segment-exclusive 8-speed "wet" dual-clutch transmission, performance features unavailable on the Optima.
Discover Everything There Is To Know About The 2021 Kia K5 At Beaverton Kia
Have a question about the Kia K5? Feel free to reach out to us at Beaverton Kia for answers.